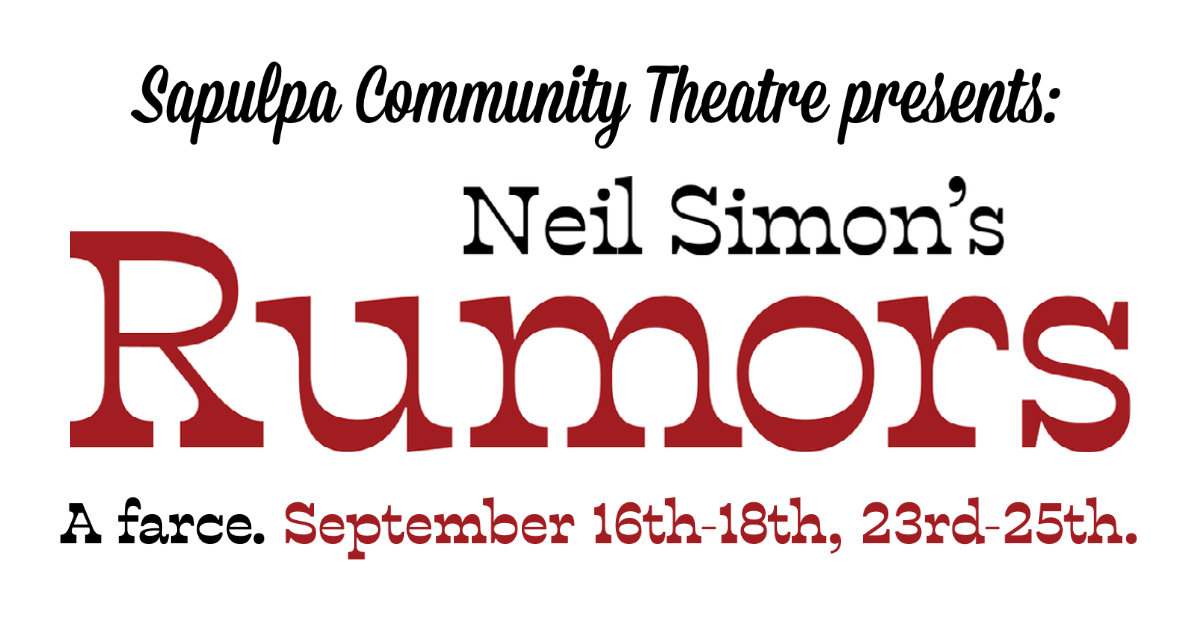 By Neil Simon, Directed by Kim Rutherford
In this murderous farce, four couples arrive at the 10th-anniversary celebration party for New York's deputy mayor and his wife, only to find the mayor wounded in bed and the wife missing! The other guests lie and spread rumors. But what is the truth? This zany comedy from one of America's best-loved playwrights is a wild stew of ridiculously hilarious complications that will have your audience laughing out loud.
Cast:
​Chris Gorman……………………Lisa Porter
Claire Ganz………………………Kristin Blue Fisher
Cookie Cusack………………….Shannon Opitz
Cassie Cooper…………………..Michelle McDonald
Officer Ben Welch……………..Jim Vogt
Ken Gorman……………………..Brian Grace
Lenny Ganz……………………..Hunter Potter
Ernie Cusack…………………….Jon-Ray Cormier
Glenn Cooper……………………Jeremy Garrett
Officer Pudney………………..Linn Slack
Production Staff
Director………………………….Kim Rutherford
Stage Manager………………..LeAnn Smith
Tech Director…………………….Adam McCollough
Co-Director……………………..Chuck Osuna
Assistant Stage Manager…..Mitzie Howard
Producer………………………….Debbie Pope
Meet the Cast:
Lisa Porter (Chris Gorman) by day is an IT Sr. Consulting Project Manager and by night enjoys her acting hobby. She is excited to be back on stage. She has performed in many productions over the years/decades in college and with community theaters in Tulsa and Broken Arrow. This is her first show at SCT. The directors, cast and crew have been wonderful. She hopes you enjoy the show!
Brian Grace (Ken Gorman) is a Tulsa-born actor for theatre, voiceover, and film. Starting in 2017 on stage, Brian has been in countless productions across eastern Oklahoma including Sapulpa's The Mousetrap and ATC's A Christmas Carol. Keep an eye out, as Brian has been keeping busy in the Oklahoma film scene as well! Brian is happy to ground himself in Ken Gorman as he completely loses control of an increasingly ridiculous situation.
Kristin Blue Fisher (Claire Ganz) is an attorney who trained in theater/musical theater at Northwestern University in Evanston, Illinois, and the University of Tulsa. She worked with writer Ray Bradbury and lyricist Jimmy Webb on the workshop production of Dandelion Wine, and has appeared in many Tulsa productions, including Cabaret, Amadeus, and The Producers. She would like to thank her husband and three children for their constant love and support.
Hunter Potter (Lenny Ganz) is very excited to be in his first show with Sapulpa. He has been in over forty productions since he started seven years ago. Some of his favorite productions include roles in The Boys Next Door, Lés Misérables, Oklahoma, Into the Woods, and Our Town. He would like to thank his family, Ryan King, and his friends for always supporting him and helping him push forward. He'd also like to thank his cast mates, his Director Kim, Co-Director Chuck, and his stage managers LeAnn and Mitzi for making this all possible. He hopes you love the show!
Shannon Opitz (Cookie Cusack) is thrilled to perform in her fourth comedy at SCT and loves the family-like camaraderie of all those involved with this show. When not being a goof onstage, you can likely find her hiking through the woods, finding zen on a yoga mat, watching football with friends, or attempting to be serious at her day job at BOK Financial. A heartfelt thank you to all her friends and family who support her many creative pursuits.
Jon-Ray Cormier (Ernie Cusack) is excited to be welcomed on his first appearance at Sapulpa Community Theatre, with such an amazing cast! He would like to thank Andrew Smith for inspiring him to do theater, his wife, and all his fellow theater friends for all their support. Enjoy the show, with this cast, you are in for a treat.
Michelle McDonald (Cassie Cooper) is so excited to be back on stage at this wonderful theatre! She was last seen as the electrifying Mary Shelley in Murder by the Book. She wants to thank her family and friends for their support, and her cast mates for all the laughs! Hope you enjoy the show
Jeremy Garrett (Glenn Cooper) lives in Muskogee with his wife and a bunch of animals. He is an avid cinema fan, a published writer, and an award-nominated short film director.
Jim Vogt (Officer Ben Welch) is appearing in his fifth play at SCT. He wants to thank his wife, Yvonne, for all her support. They are members of Blue Bell FWB church where Jim teaches and occasionally preaches and are proud parents of seven children and seventeen grandchildren. They are currently expecting their third great-grandchild and feel truly blessed. He would like to thank the director for casting him and hopes you enjoy Rumors as much as he and the cast have enjoyed working on the show.
Linn Slack (Officer Pudney) learned to play violin when she attended school at Franklin Elementary and played in the orchestra through high school. She has sung in the church choir and taken dance lessons as a child with David Rickles. Linn just started acting for community theater and made her acting debut at BACP. This is her first show at SCT and is honored to be cast as Officer Pudney and to work with Kim and Chuck.